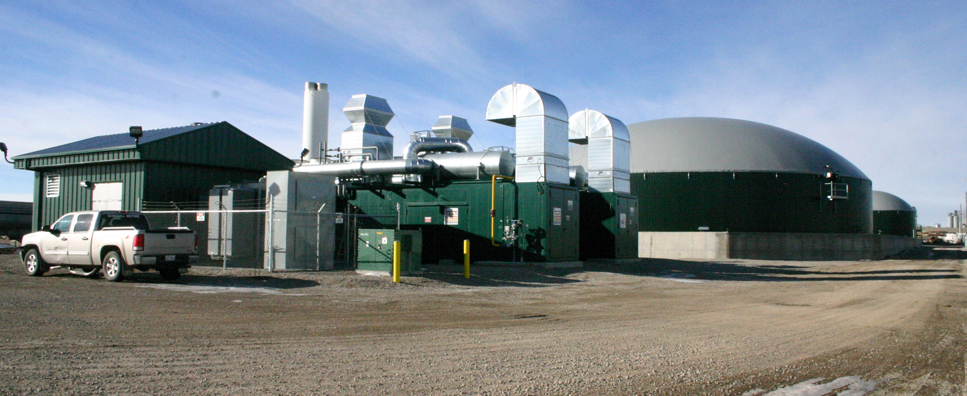 Lethbridge Biogas is the first plant in North America to incorporate thermal hydrolysis technology into an existing anaerobic digestion plant. We use the Biorefinex© thermal hydrolysis process which is based on a combination of high temperature (180 °C or 356 °F) and pressure (12 bar or 174 psi) at a processing time of 40 minutes to break tissue molecules down to their original small molecular building blocks. This technology allows Lethbridge Biogas to properly dispose of and manage animal by-products and animal carcasses in the Lethbridge facility while taking advantage of an increased biodegradability of the hydrolysed material for renewable energy production.
The World Organization for Animal Health (OIE) adopted the BioRefinex© thermal hydrolysis as a recommended process for the destruction of all Transmissible Spongiform Encephalopathy (TSE) and microbiological disease agents in May 2010. The OIE formally approved the technology for incorporation into the 2010 Terrestrial Animal Health Code.

For Canada, the Canadian Food Inspection Agency (CFIA) approved this process for the destruction of prions responsible for Bovine Spongiform Encephalopathy or BSE, commonly known as mad cow disease.
In the United States the thermal hydrolysis in combination with anaerobic digestion meets the requirements for Class A fertilizer production, according to the EPA 503 for processing biosolids.
The Lethbridge Biogas thermal hydrolysis system consists of:
A separate unloading bay
A heavy-duty front-end disposal hopper
A liquids collection tank
A heavy-duty crusher
A heavy-duty slurry pump
2 thermal hydrolysis vessels
A thermal oil heating & distribution system
A buffer tank for hydrolysed product