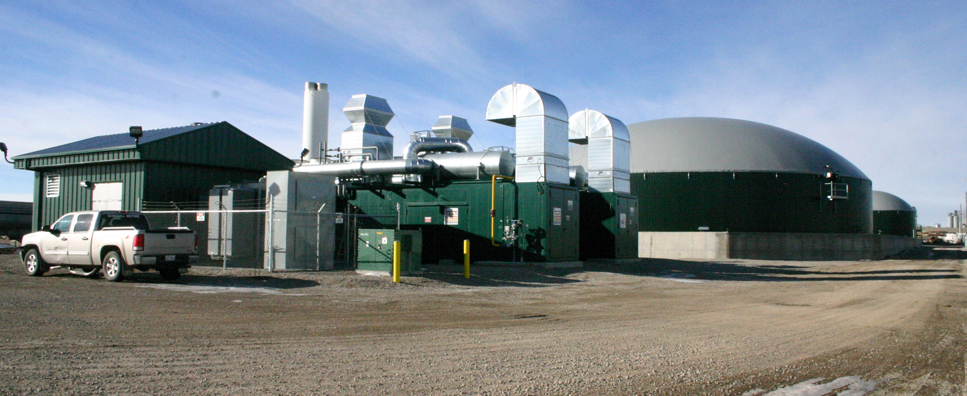 Welcome to
Lethbridge BioGas.
Lethbridge Biogas uses an anaerobic digestion process operating at 38 degrees C for the production of renewable energy. Anaerobic means 'in the absence of oxygen.
The Lethbridge biogas/cogeneration plant processes organic residues such as agricultural manures and food processing by-products. It uses the biogas generated in 2 * 1.425 MW combined heat and power units (CHP) to produce green and renewable electricity for the Alberta grid. Heat captured from the CHP's is used to keep the process at its operating temperature at all times. Situated in the County of Lethbridge 'Rave Industrial Park', Lethbridge Biogas has access to an abundance of organic "fuel" within a radius of 2-30 km.
The anaerobic digestion process captures and uses methane, a greenhouse gas 21 times more destructive to the environment than CO2. The remaining by-product of the digestion process is digestate which is used as a high-quality fertilizer for land application. Digestate reduces commercial fertilizer requirements and associated costs. This facility is the first to incorporate patented thermal hydrolysis technology developed in Alberta.
GREEN ENERGY FUTURES story & video about Lethbridge Biogas
BENEFITS
OF BIOGAS
Value-added activity to local agricultural production
Renewable thermal & electrical energy
Sustainable management of organic resources
Reduction of greenhouse gas emissions
Reduction of pollution & odour
Distributed generation of flexible power 24/7