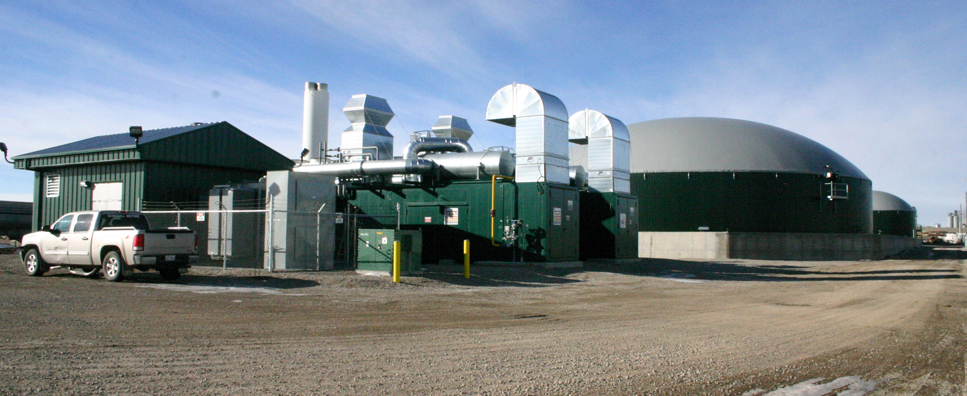 Our Plant
In December of 2013 Lethbridge Biogas LP has officially opened the largest anaerobic digester/co-generation facility in Canada. The $30 million facility currently has a generating capacity of 2.8 MW – enough to power 2,800 homes. It has the capacity to produce as much as 4.2 MW in the future with the addition of new generating units. The facility has received funding from the Alberta Government, Department of Energy and from the Climate Change and Emissions Management (CCEMC) Corporation.
CCEMC VIDEO: https://www.youtube.com/watch?v=ll8M2kJkE9U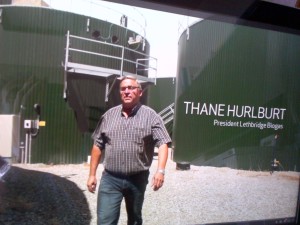 The facility includes:
State-of-the-art anaerobic digestion facility designed & built by PlanET Biogas (http://www.planet-biogas.ca) incl. a two-bay receiving/unloading building, 2*1,150 m3 pre-storage tanks, 3*3,900 m3 anaerobic digesters, 1*5,700 m3 post-storage tank, a two-stage air-treatment system with a wet scrubber & 2 biofiltration units, emergency biogas flare
Canadian Food Inspection Agency (CFIA) approved thermal hydrolysis system (Biorefinex© process) for the safe and environmentally sustainable processing of up to 30,000 tonnes annually of animal by-products and carcasses (incl. Specified Risk Material).
2 containerized 1.425 GE/Jenbacher CHP units packaged & supplied by 2G Energy systems, switchgear building & high-voltage transformer
Various truck & trailer combinations for hauling liquid & solid organic residues
Experienced, knowledgeable & specially trained staff
Fully automated process controls with remote access & monitoring capability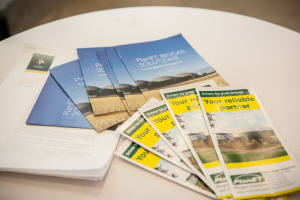 Download: Anaerobic Digestion + Thermal Hydrolysis.
Download: Lethbridge Biogas Success Story.
Watch the Green Energy Futures story and video about us.
http://www.greenenergyfutures.ca/episode/lethbridge-biogas
For more information, please contact us and ask about how we can help you deal with the disposal of organic residues or view our Disposal Opportunities Page.